Karen Cohen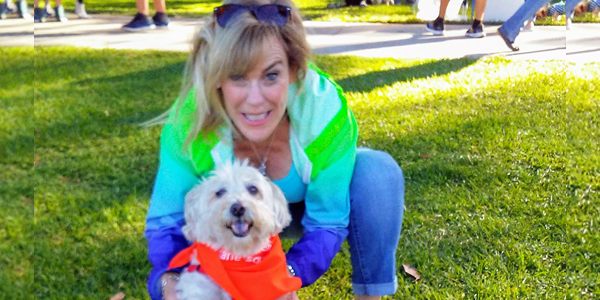 Karen Cohen says her dream has always been to save animals. As one of our newest 1903 Society members her dream can now come true.
After attending a free estate planning seminar at the shelter, the 26-year Pasadena resident, who adopted her beloved dog Ozzie from Pasadena Humane in 2015, knew there was no time like the present to plan for the future.
"I realized that at age 66, I have a nest egg that will continue to grow as I have no reason to fully retire," said Karen, who runs a popular dog walking and pet sitting business. "I wanted to make a contribution to a nonprofit even if I couldn't make a significant contribution on a monthly or yearly basis. [A planned gift] was the next best thing."
"My love of dogs, rescues in particular, and the incredible work Pasadena Humane is doing made the decision easy," she added.
Karen enthusiastically urges other donors to do the same, explaining that making a planned gift brings peace of mind knowing that your legacy will be honored while helping the animals at Pasadena Humane. When asked how she would like her future gift to be used, Karen is quite specific.
"I am hoping my donation will be earmarked for [Helping Paws, which assists] families struggling to take care of their pets and /or feed them," she said. "Vet bills are so high and I hate to think of people who must choose between their pets' lives and paying bills on time."
Karen says she has been a fan of our mission ever since moving to Pasadena and feeling an immediate connection to the shelter. Today, she is a regular attendee of our fundraising events, particularly our Wiggle Waggle Walk.
"Pasadena Humane has a special place in my heart and the people working there are a special "breed," she explains. "I am so glad to have found them, to have adopted my boy Ozzie from there, and I look forward to being able to do more [for Pasadena Humane] in the future."