Gillan Abercrombie Frame and Greg Frame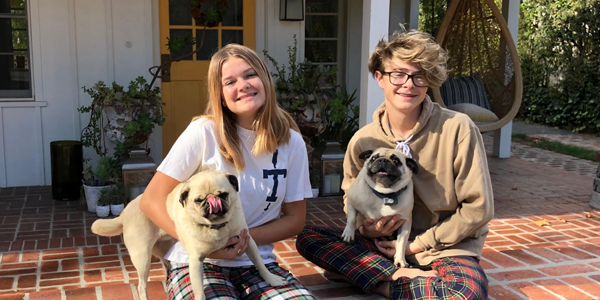 Gillan Abercrombie Frame and Greg Frame are among Pasadena Humane's most loyal donors, having given to the animals for more than 20 years. The longtime La Canada residents, who have two children, ages 13 and 15, have also adopted a number of animals from Pasadena Humane over the years, including two dogs, two rabbits, two chinchillas, and a cat.
Judging by their adoption history, the couple's commitment to animal welfare is evident. So, too, is their commitment to Pasadena Humane. In addition to making annual gifts to the shelter, they have included Pasadena Humane in their estate plans so that other animals who come to us will get the same second chance as their pets.
"Animal welfare is very important to our family," said Gillan about the couple's decision. "Pasadena Humane has been instrumental in educating the public about the importance of spaying and neutering animals which has been effective in reducing the number of homeless and abandoned animals in the community."
By naming Pasadena Humane in their trust Gillan and Greg became part of our 1903 Society, whose members receive invitations to special events, recognition in our annual report, and a discount in our Shelter Shop. However, those benefits are not the reason why they took this step.
Gillan, who has also served on the shelter's board of directors and was a founder of Pasadena Humane's auxiliary, the Pasadena Animal League, hopes that planned gifts like theirs will one day mean that every animal has a home.
"In an ideal world, we can help eliminate the need for animal shelters," she said.